Tuesday, December 18, 2012
Officials, staff and students gather to launch Small Business Success Project
(Washington, DC) – The DC Office of the Chief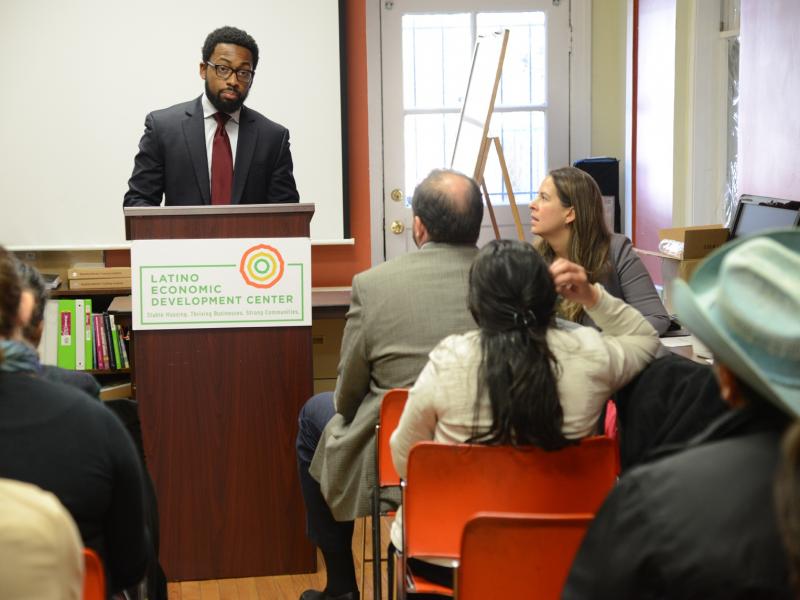 Technology Officer (OCTO) announced a new initiative connecting District-based small businesses with basic digital literacy education through a sub-grant to the Latino Economic Development Center (LEDC). Led by LEDC's Small Business Development department, the Small Business Success Project will teach entrepreneurs the necessary skills to utilize technology tools and platforms to find greater efficiencies to better manage their businesses. Session I of Technology Basics en Español also took place.

"At OCTO, we are working to increase digital literacy across the city, providing our residents, businesses and community organizations with an opportunity to have all of the benefits of a connected life," said Rob Mancini, District Chief Technology Officer. "The Small Business Success Project is a fantastic example of how the public and nonprofit sectors can work together for the greater good of broadband inclusion. Through our partnership with LEDC, we are providing local entrepreneurs with access to digital literacy training, giving them the opportunity to advance their business goals and remain competitive in the digital economy."

The small business support activities provided by LEDC are intended to empower start-ups and establish small businesses for the purpose of increasing broadband access and digital inclusion in the District. LEDC will deliver a training program that integrates the District's small business community into the technology revolution, with small businesses demonstrating use of technology by starting broadband subscriptions. LEDC also provides technical assistance, hardware and software as well as Internet connectivity.

"We are thrilled to partner with OCTO for the first time to equip entrepreneurs with the skills they need to succeed in a digital world," said Manny Hidalgo, LEDC Executive Director. "They will use technology to stay in touch with their customers, manage finances, create company websites and much more. It's exciting to see how technology can remove barriers that entrepreneurs face and help create a better future for their families and communities."


In addition to the Technology Basics class, future classes will be offered to entrepreneurs with moderate technology skills, helping them leverage broadband access and technology to increase their client base and marketing opportunities. Classes will be held in Spanish, English and Vietnamese.

"Small businesses employ about half of our nation's workers and are an important part of the fabric of our neighborhoods and cities," said Delano Squires, Acting Program Director of the OCTO's Digital Inclusion Initiative. "LEDC has a proven influence within its target communities and we are confident this project will have a great impact in the District of Columbia."

Classes are ongoing and will take place until July 2013. Eligible business owners will receive free Internet and hardware upon class completion.
Media Contacts:
Jill Melnicki (202) 442-3201
Ash Kosiewicz (LEDC) (202) 425-1301