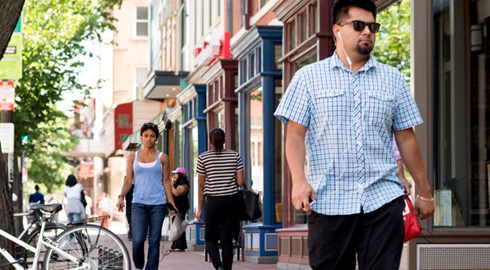 The Connected Communities Initiative (CCI) aims to increase Internet access and use by residents, businesses and community institutions in low- and moderate-income neighborhoods in the District of Columbia. Created with input from residents and led by local stakeholders, the initiative will build a culture of digital excellence to support neighborhood goals in areas such as employment, education, and health.

How it Works
Engage community stakeholders through planning meetings, focus groups, and community conversations to create community technology plans that outline specific recommendations for increasing broadband adoption and technology access in each community.
Utilize digital demonstration projects to give stakeholders tangible examples of how technology can be used to create more engaged, informed, and empowered communities.
Target Areas
Through the Connected Communities Initiative, Connect.DC will focus on clusters of neighborhoods to assess the challenges facing each community, investigate barriers to Internet access and usage, and identify technology resources to help community stakeholders address those challenges. The first phase of CCI will begin with the creation of these "digital footprints" in Ward 7 and 8.
Ward 7 Digital Footprint
Benning Ridge
Marshall Heights
Ward 8 Digital Footprint
Barry Farm
Hillsdale
Historic Anacostia
Future digital footprints will be created in other neighborhoods with low broadband adoption rates. A specific focus will be placed on neighborhoods in Wards 5, 7, and 8, where the average broadband adoption rate is less than 65 percent. By contrast, the average rate in the other five wards is approximately 85 percent.
Interested in participating in one of our focus groups? If so, text CCI to 83224, email [email protected]or call (202) 478-5960.