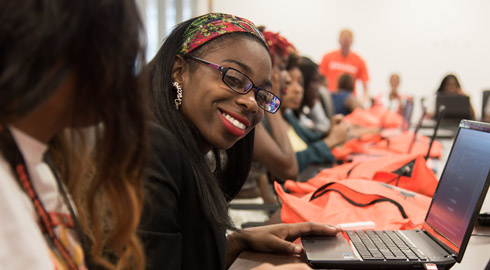 Donate
We have teamed up with EveryoneOn in a pledge to connect one thousand District households to broadband Internet by September 2015. You can help us get there by donating to help a DC resident cover the cost of a wireless router and 3 months of Internet service! For more info, visit our campaign page.

Connect with us on your social networks
In the fight to close the digital divide, your voice matters! You can help spread the word about Connect.DC with your family, friends, and others in your social networks by sharing an event, picture, story, or video you've seen on Connect.DC's Facebook, Twitter, Instagram, SlideShare, or YouTube page.
Join us at an event
We're promoting the advantages of digital literacy and broadband adoption throughout the District through technology events, focus groups, community forums, Mobile Technology Lab sessions, and more. View our Events page to get up-to-date information on what's happening next.
Volunteer
Connect.DC is excited to bring its passion for technology to the community, but we realize we can't do it alone. We rely on volunteers to help with tasks like public speaking, event registration, publicity, and hospitality. Fill out a volunteer profile today to get involved and make a real difference.
Share your story
We want to hear your story! Sharing your story with Connect.DC enables supporters across the city to learn about what others are doing to bridge the digital divide—and can inspire them to act. Whether you are sharing a story about your personal experience getting online or what inspired you to get involved in the cause—we are happy to read it, share it with others, and even post it on our website. Send us your story via email or Facebook!