Tuesday, November 8, 2011
OCTO's New Initiative on Hand to Promote Digital Inclusion
(Washington, DC) Connect.DC took part in the first citywide Discovering Technology Fair organized by the Broadband Bridge last Saturday. Held at Bread for the City's Northwest Center, this free event educated District residents on the multitude of ways technology can improve their lives. The fair—commonly referred to as DiscoTech—provided an opportunity for participants to learn about the impact of public policy and Internet technology on local communities. In addition to computer training workshops for users of all skill levels, there were presentations on robotics, mobile apps, community wireless networks, and Internet radio programs.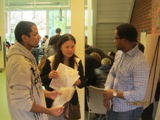 "We had a number of interactions with people wanting to learn about how District government programs are helping residents access basic technologies," said Alex Chi, Director for Connect.DC. "We also had the opportunity to meet representatives from local groups working on technology initiatives," Chi added.
Indeed, the DiscoTech provided an opportunity for Connect.DC—OCTO's Digital Inclusion Initiative—to take the message of digital inclusion directly to the community. Through Connect.DC's participation, attendees gained a better understanding of what the DC government is doing to ensure its residents have the access to computers and broadband Internet service that is essential to participate fully in 21st century society.
A common theme discussed among the crowd was a lack of meaningful access to computers and technology, especially for the homeless and low-income individuals and families. Connect.DC will develop long lasting partnerships with community groups like Bread for the City that are actively involved in efforts that promote sustainable social, economic, and civic growth for District residents. Bread for the City's next DiscoTech is planned for February.
Media Contact
Jill Melnicki (202) 442-3201