Tuesday, February 21, 2012
Returning Citizens Begin Six Weeks of Digital Literacy Classes
(Washington, DC) Dozens of District of Columbia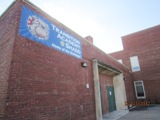 returning citizens are headed back to school this week. Thanks to a brand new Digital Inclusion Center at the UDC-CC Shadd Campus—just down the street from RFK Stadium—digital literacy classes are now available for the first time to previously incarcerated individuals seeking new or advanced technology skills. The Center was created by the Office of the Chief Technology Officer (OCTO) through Connect.DC in partnership with the Mayor's Office on Returning Citizen Affairs (ORCA), DC Public Library (DCPL), and the University of the District of Columbia Community College (UDC-CC). Connect.DC opened the Center to provide individuals with the essential computer skills needed for assimilation back into local communities.
"Our work with previously incarcerated individuals shows that educational programs for this group are known to play a role in reducing recidivism rates," said Charles Thornton, Director, ORCA. "We believe digital inclusion is the next gateway for those returning to society after a period of incarceration."
A pilot program for Connect.DC, the Shadd Digital Inclusion Center houses twenty refurbished computers with access to high-speed broadband Internet service where students can take advantage of a comprehensive training curriculum and dedicated staff. Individuals who successfully complete the introductory digital literacy course will receive a refurbished desktop computer and one year of free broadband service. Additional training is also available at UDC-CC for those seeking to further their technical skills.
The ov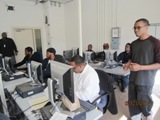 erarching goal of this program is to increase the employability of returning citizens into technology-related jobs and career fields. Approximately two hundred previously incarcerated men and women are expected to complete some digital literacy training by the end of 2012 with an estimated twenty-five percent increase targeted for 2013.
"It's rewarding to offer educational support to individuals with little to no recent experience in computing technology," stated Alex Chi, Connect.DC Director. "We're glad to help these students enter the workforce with competitive and useful skills."
Students are eager to develop computer literacy and employment readiness skills. A female student currently on probation explains she "joined the class to brush up on [her] computer skills"—skills she hasn't used since 2001. Two classes are offered: PC Basics and Microsoft Office. PC Basics teaches students how to type and use the mouse, manage files and folders, search the internet, and use email. Students practice their skills by using an online typing tutorial and online games. In the Microsoft Office class, students learn Microsoft Word, Excel, Outlook and PowerPoint, as well as develop job readiness skills.
Current classes are held on Tuesday and Thursday afternoons at UDC-CC Shadd (5601 E. Capitol St. SE, Washington, DC 20019). The next group of classes is scheduled for April. For more information, contact the Office on Returning Citizen Affairs at (202) 715-7670.
This initiative is funded by the American Recovery and Reinvestment Act (ARRA) as a part of the Sustainable Broadband Adoption (SBA) project, with in-kind match from DCPL and OCTO.
Media Contact
Jill Melnicki (202) 442-3201