Digital Inclusion Initiative, funded in part by the State Broadband Initiative (SBI), supported the District's Summer Youth Employment Program by providing structured work experience and mentoring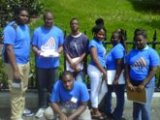 (Washington, DC) To support Mayor Vincent C. Gray's One City Summer Youth Employment Program (SYEP), the Digital Inclusion Initiative (DII) at the Office of the Chief Technology Officer (OCTO) hosted local youth interested in technology this summer. The program, administered each year by the Department of Employment Services (DOES), aims to provide a meaningful work experience for District youth.
More than a dozen OCTO youth were assigned to the Digital Inclusion Initiative on one of three teams—research, database, and web/media. Teams conducted digital literacy public surveys, researched nationwide trends and best practices, and developed strategies for website and social media engagement. Working closely with DII program staff, the teams made great strides toward advancing program goals.
"We're glad to play a role in giving young people the opportunity to develop effective work habits, positive attitudes, and valuable job skills, all of which are necessary to be productive employees," said District Chief Technology Officer (CTO) Rob Mancini. "I observed tremendous promise among the OCTO youth this year. I congratulate the Digital Inclusion team and each youth participant on the successful completion of the program."
DOES Director Lisa Mallory applauds OCTO's efforts and added: "This is an excellent example of how, under Mayor Gray's leadership, we have strengthened programs that serve the District's youth."
In addition to a regular work schedule, teams joined together in large group sessions each week for personal and professional development. Sessions ranged from focus groups to staff meetings to presentations on topics such as cyber security and technical training and certification opportunities.
At the final staff meeting of the summer, DII Director Alex Chi commended the youth on making their best effort and urged them to take it to the next level. "You can achieve more than you can ever imagine," said Chi. "Most importantly, be valuable to the people around you. Do you know what it means to be valuable? What you give is more than what you take."
A six week program, the SYEP began on Monday, June 25, 2012 and ended on Friday, August 3, 2012. View photographs of DII summer youth activity on Facebook.
Media Contact:
Jill Melnicki (202) 442-3201