Friday, December 27, 2013
JOIN THE DIGITAL REVOLUTION - Issue 6
Friends,
As we move through the holiday season toward year's end, it is a time to reflect, come together in family and community, celebrate the things for which we are most grateful, and find ways to give back.
I am grateful for our friends and partners at Connect.DC.
Together, we've worked hard to ensure the residents of the District have access to technology that we sometimes take for granted. Whether we use it to purchase gifts for our family, find a new recipe online, or Skype with a loved one serving in the military, technology is an integral part of our everyday lives. That's why we are determined to make certain that everyone in the District has the tools and skills needed to get the most out of today's technology. I am thankful that you have given your time, expertise and feedback--which have helped enable our success in the communities we serve together.
I am thankful for the residents of this great city--and the lessons we learn from them every day. Over the past year we've learned that District residents are incredibly resourceful. Not having access to technology hasn't stopped people from living full lives. The people we meet are hard working, dedicated to their communities and desire a better life for themselves and their families. Their determination, often in the face of difficult circumstances, makes the work we do even more rewarding.
So on behalf of the entire team at Connect.DC, with gratitude, I wish you, your families, friends and neighbors a joyous holiday and new year!
Warm regards,
Delano
Director, Connect.DC
________________________________________
'Get Connected' Public Awareness Campaign Launches in December

In an effort to raise public awareness of the benefits of having access to technology in the home and connect families to the information, resources and services they need, we've launched our "Get Connected" campaign in DC. We have teamed up with EveryoneOn, a national nonprofit, and eight community leaders to help families on the other side of the digital divide get online and gain basic digital skills. The campaign will run for three months and utilizes local papers, public transit, mobile, social media and direct mail as well as placement of posters in public libraries, recreation centers and other public venues--primarily in Wards 5, 7 and 8.
Read more here.
________________________________________

Save the Date: Nonprofit Tech Summit



We are so pleased to announce that we have joined forces with the DC Office of Partnerships and Grant Services (OPGS) and national nonprofit EveryoneOn to host a nonprofit technology summit next March. We hope you'll mark your calendar for what is sure to be one of the best nonprofit events of the year!

Tuesday, March 25, 2014
Arena Stage
1101 6th St, SW
Washington, DC 20024
10:00am - 3:00pm
Stay tuned for more details!
________________________________________
Sixteen Public Computer Labs Get Makeovers in 2013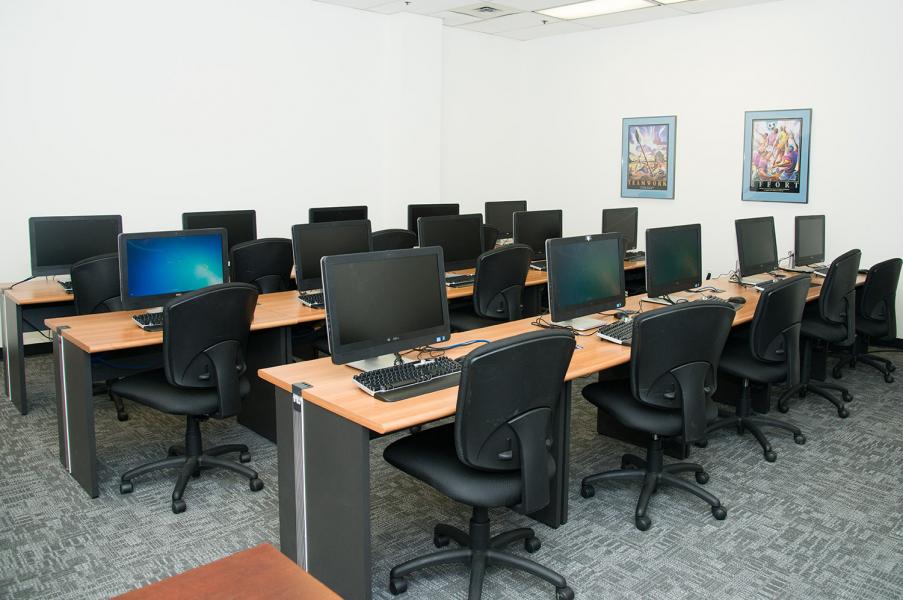 This year, we partnered with the Office of Returning Citizen Affairs (ORCA), DC Office on Aging (DCOA), Department of Parks and Recreation (DPR) and the Department of Employment Services (DOES) to provide improved computer access to District residents. As part of the PC Refresh Project, one hundred seventy (170) computing devices were replaced at sixteen (16) government-owned computer labs, primarily across Wards 5, 7 and 8. Today, seniors, returning citizens and job seekers can learn how to send email, apply for a job online or take a distance learning course from brand new computers. The PC Refresh Project represents bold and practical efforts to bridge the digital divide in the District by bringing government technology resources closer to those who need it the most.
________________________________________
Mobile Tech Lab Supports HBX Enrollment Efforts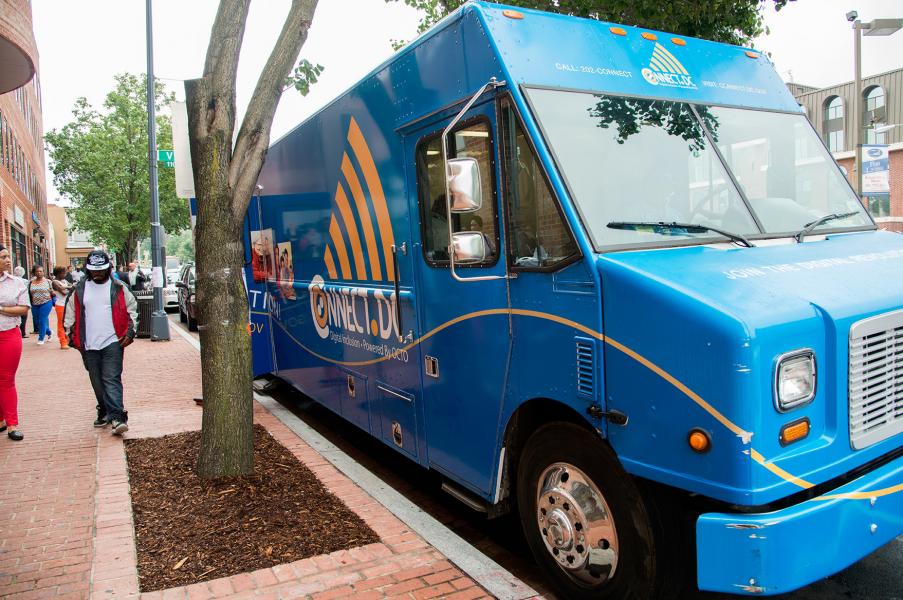 On Saturday, November 23rd, we partnered with the Health Benefits Exchange (HBX) at the DCHealthLink Information and Enrollment Day. More than fifty (50) people visited the Mobile Technology Lab (MTL), which was part of the caravan of food trucks and government vehicles parked in front of Martin Luther King Jr. Memorial Library. The MTL provided additional Internet access for DCHealthLink staff who helped District residents obtain health insurance. The Connect.DC partnership with HBX demonstrates the type of benefits the MTL brings to both community and government outreach and programming efforts, especially in neighborhoods in the city where home Internet adoption and access to public computer labs are low.
If you're interested in a partnership, please fill out a request form. Additional events are in the works - see schedule here.
________________________________________
"We need technology in every classroom and in every student and teacher's hand, because it is the pen and paper of our time, and it is the lens through which we experience much of our world."
– David Warlick