JOIN THE DIGITAL REVOLUTION - Issue 4
Friends,
In a report released earlier this month, Exploring the Digital Nation: America's Emerging Online Experience, the National Telecommunications and Information Administration (NTIA) explores how Americans connect to the Internet and what Americans do online. The report, coauthored with the Economics and Statistics Administration (ESA), describes the dramatic growth in the number of Americans who are using high-speed Internet connections to perform tasks like looking for work, finding medical information, and accessing financial services.
We know that people who don't have access to the Internet, can't afford it, don't know how to use it, or don't see why it's important are at a great disadvantage in an increasingly digital age. That's why Connect.DC's goal is to make technology easier to use, more accessible, more affordable, and more relevant to the District's most underserved residents, small businesses, and community institutions.
According to OCTO's most recent broadband adoption map (December 2012), the District‐wide adoption rate has increased from 57.8% in December 2008 to 72.5% in June 2012. However, the range of adoption varies widely across the District. From nearly 100% adoption in more affluent neighborhoods to adoption rates below 40%--which NTIA defines as "underserved"--in lower income rates. [full report]
The continued disparity in access and adoption is what fuels our work.
At Connect.DC, we are partnering with local nonprofits to provide computer and Internet training to residents and small businesses. We're also working with District government agencies, including the DC Public Library, to promote existing public technology access and training. We're collecting information on affordable Internet solutions for residents and we continue to demonstrate the value of technology access by keeping you informed of new technology trends and research through digital engagement.
We've been busy since we last connected, but there's still much work to be done. With your help, we will continue to advance digital inclusion throughout the city and build a more informed, empowered, and inclusive District of Columbia.
Delano Squires
Program Director
________________________________________

Review: Digital DC – Technology Matters!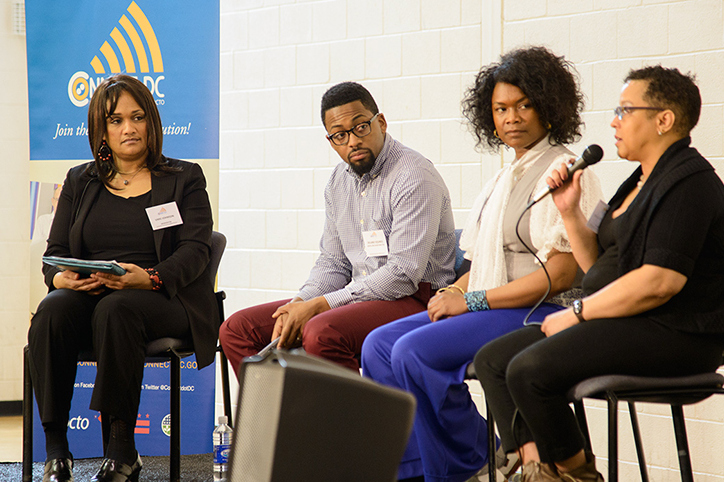 More than one hundred residents, small business owners, and nonprofit professionals attended the Spring 2013 Community Broadband Summit on May 18, 2013. It was a day dedicated to hands-on technology learning for personal and organizational growth. The Summit featured a video welcome by Mayor Vincent C. Gray, remarks by DC Chief Technology Officer Rob Mancini, Councilmember Kenyan McDuffie, and Connect.DC Director Delano Squires, as well as expert workshops and a panel discussion.
View photos and video and slides from the Summit.
________________________________________

More than 170 District-based Small Business Owners Trained
Since December 2012, OCTO's subgrantee, the Latino Economic Development Center (LEDC), has helped more than 170 District-based small businesses and budding entrepreneurs get comfortable with technology tools, giving them the opportunity to advance their business goals and remain competitive in the digital economy. Through the Small Business Success Project, LEDC has educated and trained entrepreneurs during their startup phase on business planning, getting a business online, business plan development, and loan assistance. LEDC has trained established businesses on social media, website development, and crowdfunding.
Project participants have an opportunity to apply for free hardware and software, and receive low-cost Internet service. Successful applicants will receive their devices in early August 2013 after a joint press conference with OCTO and LEDC.

For information about upcoming workshops in July, visit LEDC's website.
________________________________________

Mobile Technology Lab: Providing Access and Opportunity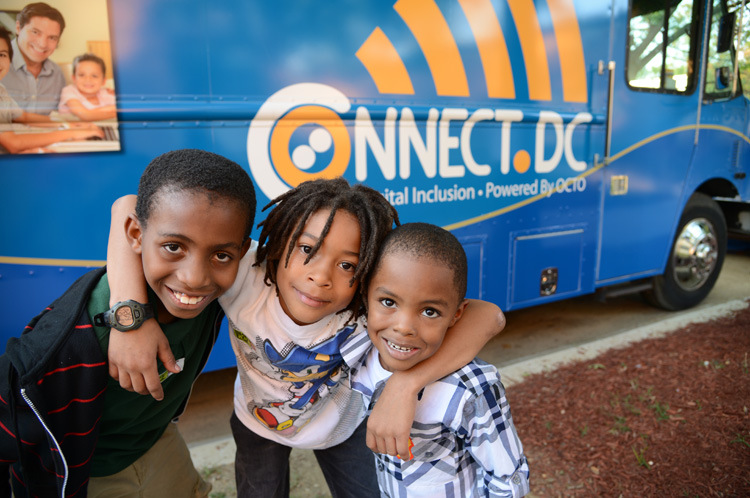 Coming to a neighborhood near you! It's a 48-foot royal blue 4G/LTE connected 8-station computer lab, complete with a projector, screen, and color printer. OCTO's Connect.DC Mobile Technology Lab (MTL) allows us to deploy technology to neighborhoods where home Internet connections are lagging behind the rest of the city. The MTL plays a key role in our mission to bridge the digital divide.
The vehicle also provides opportunities for local nonprofits and District government agencies to better serve residents by bringing important services directly to the people who need them. Some key partners include: the Office of Unified Communications (OUC), Capital Area Asset Builders (CAAB), Bank on DC, United Way of the National Capital Area, Columbia Heights/Shaw Family Support Collaborative, and OCTO's own DC One Card.
For more information on training opportunities or to schedule an appearance of the MTL at an upcoming neighborhood event, please contact Lee Brown, Connect.DC Broadband Coordinator, at (202) 266-6328 or via email.
________________________________________
Interact with DC's Broadband Map
OCTO's DC Broadband Map allows users to identify broadband availability and performance throughout the District. The map includes the ability to view by technology type, download/upload speeds and the number of providers within a given location. This service is helpful when choosing service plans and identifying existing connections.
OCTO's GIS team maintains the DC Broadband Map by collecting and mapping broadband availability information every 6 months to capture changes in service availability. The collected data is also integrated into the National Broadband Map.
You can assist the GIS team by taking a quick Broadband Public Survey and Testing Your Broadband Connection Speed.
________________________________________
What Kind of Tech User Are You?




Digital collaborator? Media mover? Mobile newbie? Find out what kind of tech user you are! Take survey now.