Wednesday, March 20, 2013
JOIN THE DIGITAL REVOLUTION - Issue 3
Friends,
Technology affects us all—from residents to businesses to community institutions. It has the potential to transform lives, solve problems, and connect communities. Access to the Internet has changed the way we communicate, work, learn, and get our news and information. These advances have improved the quality of life for most of us, but not for everyone.
And that's why we go to work each day.
At Connect.DC, we understand that everything is affected by technology, but we also know that many people still don't have the access or skills to take full advantage of everything modern technology has to offer. Together with our partners, we are working to do something about that. We're providing indoor and outdoor free Wi-Fi hotspots and computer access in libraries and recreation centers, training District residents and small businesses to use technology, and working with service providers to ensure both groups have affordable options once they finish their training. We're also reaching out to people like you to see how we might collaborate to reach the underserved.
Our efforts at Connect.DC are making a difference, and we welcome your suggestions for ways that we can better serve our community.
Your Connect.DC Team
________________________________________

Small Business Success Project Update
In December, OCTO announced a new initiative connecting District-based small businesses with basic digital literacy education through a subgrant to the Latino Economic Development Center (LEDC). LEDC's Small Business Success Project is helping entrepreneurs get comfortable with technology tools and giving them the opportunity to advance their business goals and remain competitive in the digital economy. Participants are eligible to receive hardware, software, and Internet connectivity through the trainings. Since December, LEDC has trained more than 60 micro and small businesses.
For a full list of LEDC's upcoming workshops, click here.
________________________________________

Save the Date: Spring 2013 Community Broadband Summit
We are excited to announce our Spring 2013 Community Broadband Summit will be held on Saturday, May 18, 2013! As in the past, we will collaborate with community partners and technology advocates to explore the power of broadband technology in the District and to build tech capacity in DC residents, small businesses, and community institutions. Please contact us to be part of this unique community event. More details to come!
See video and pictures from our Fall 2012 Community Broadband Summit, held in conjunction with DCWEEK 2012.
________________________________________

Out and About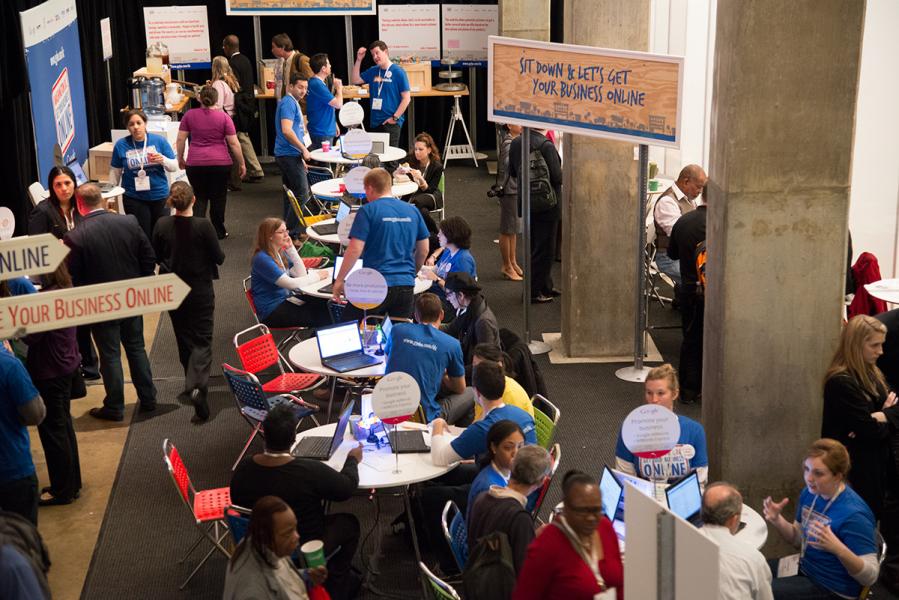 Your Connect.DC team was on the move this past winter, supporting local events and collaborating with technology groups to advance the cause. Acting Program Director Delano Squires presented at the Ward 8 Tech Council meeting on February 5th, where he described Connect.DC's digital inclusion efforts and gained insight on the specific tech needs of Ward 8 residents. On February 12th, Connect.DC and OCTO subgrantee Latino Economic Development Center (LEDC) participated in an event with Google.

We picked up a few pointers from a handful of Social Media Week events, engaged with panelists during a very enlightening Broadband Summit hosted by The Federal-State Joint Conference on Advanced Services with the National Telecommunications and Information Administration (NTIA) in early February, made new friends at the first Black Girls Code Meet and Greet in the District, and caught up with old friends at a town hall meeting for the DC Promise Neighborhood Initiative (DCPNI).

If you would like to partner with us on your next outreach event, please contact us.
________________________________________
Digital Inclusion in District Schools

When the Dorothy I. Height Community Academy Public Charter Schools (CAPCS) began receiving broadband services from DC-Net in September, 2012, they were looking to better use technology to fulfill their mission of helping elementary and middle school students develop in all aspects of learning—from critical thinking to mathematical reasoning and scientific inquiry. Read more
________________________________________

Interact with DC's Broadband Mapping Application

OCTO's DC Broadband Mapping Application allows users to identify broadband availability and performance throughout the District. The map includes the ability to view by technology type, download/upload speeds and the number of providers within a given location. For information on other mapping efforts in the District, click here.
________________________________________
Facebook Survey: What's Your Most Essential Tech Tool?

In January, we asked our Facebook fans this question: if you HAD to choose one device/platform to access the Internet, which would you choose? Our fans were split evenly between laptop and tablet. No one chose desktop!

For up-to-the-minute news and engagement with our team, 'like' us on Facebook.

________________________________________

Upcoming Events

Research Subgrant Request for Application (RFA) Release Date
Monday, March 25, 2013
Stay tuned for updates >>
Grant Proposal Writing 101 Workshop
Tuesday, March 26, 2013
10am-12pm
View more info >>
Spring 2013 Community Broadband Summit
Saturday, May 18, 2013
Stay tuned for event details >>