Monday, September 30, 2013
JOIN THE DIGITAL REVOLUTION - Issue 5

DC Small Businesses Awarded Technology Tools to Better Compete in the Digital Economy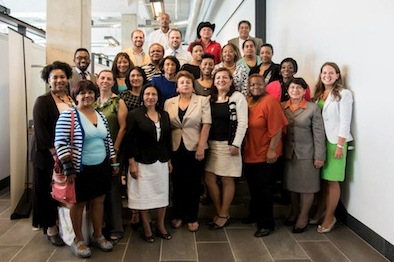 On August 7th, Connect.DC joined the Latino Economic Development Center in awarding 21 DC-based entrepreneurs with new tools to better integrate technology into their business operations. The event marked the culmination of the 10-month Small Business Success Project with awards ranging from iPad tablets and Square cash registers to laptops and client relationship management (CRM) software. More than 200 entrepreneurs were trained through the project.

Learn more: Press Release | Photos | Video
________________________________________

CTO Mancini Joins The Kojo Nnamdi Show to Discuss the Impact of Technology on Small Businesses

Rob Mancini, the District's Chief Technology Officer (CTO), Sarah Needleman, reporter at The Wall Street Journal and Marla Bilonick, Director of Small Business Development at the Latino Economic Development Center talked trends in small businesses technology on The Kojo Nnamdi Show on September 10th. The Tech Tuesday discussion covered how new tools like tablets and Square and greater access to broadband infrastructure are making it easier for businesses of all kinds, from bakeries to mechanics, to compete and excel in today's digital age.

Listen to the show
________________________________________
Mobile Tech Lab an Integral Part of Digital Media Academy Closing Ceremony



On August 9th, staff from Connect.DC attended a celebration luncheon for the inaugural class of the DC Promise Neighborhood Initiative's (DCPNI) Digital Media Academy. The event, held at Busboys and Poets, saw the Mobile Tech Lab transformed into a Mobile Media Lab for the day. Students presented their individual digital portfolios to guests, including Ward 7 Councilmember Yvette Alexander and Honorary Chair of DCPNI, Alma Powell. They demonstrated the creative ways technology can be used to promote change in their communities.

See photos
________________________________________
Back-to-School Ad Campaign Rolled Out in September

Every September, parents scramble to cross items off of school supply shopping lists. In the spirit of the season, Connect.DC launched a back-to-school ad campaign to encourage household Internet and computer use this school year. Through a partnership with Connect2Compete (formally announced later this fall), we are promoting great local offers on computers, Internet service and more. Helping District households start the school year off on the right foot - with free and low cost technology!

Residents are encouraged to visit www.everyoneon.org/connect.dc, call 311 or TEXT CONNECT to 83224 for more information. Please help us spread the word!
________________________________________
OCTO Receives the Golden Mouse Award



Connect.DC was privileged to accept Byte Back's Golden Mouse Award on behalf of OCTO at the graduation ceremony for the organization's Summer 2013 training class on July 26th. Byte Back is a nonprofit computer and job training center--headquartered in Brookland--which serves over a thousand low-income adults each year. The award, given to partners who show special dedication to Byte Back's mission, was the first for OCTO and a recognition of the agency's commitment to digital inclusion in the District.