Digital Inclusion Initiative and local community join together to promote technology adoption in the District
(Washington, DC) Technology inclusion took center stage at the Spring Community Broadband Summit on Saturday, April 28th. The event, hosted by the Digital Inclusion Initiative (DII)—part of the Office of the Chief Technology Officer (OCTO)—gathered together hundreds of District residents, and representatives from federal and local government agencies, nonprofit organizations and the business community at the Thurgood Marshall Academy / Savoy Elementary School complex in southeast Washington. The event, entitled Connecting Communities through Broadband Technology, explored the intersection of technology and economic opportunity in local communities.
Mayor Vincent C. Gray provided closing remarks, awards and recognition and a Digital Inclusion Day Proclamation. "Over the last year, we've tried to make sure that we spent time increasing the broadband capacity all across the city," Mayor Gray stated. "We started right here east of the Anacostia River, where broadband access has oftentimes been very difficult to obtain."
"The promise of the information age remains unfulfilled and out of reach for too many," said District Chief Technology Officer Rob Mancini in his remarks. "The skills for survival in the technology economy require knowledge, access, affordability, but most importantly adoption. One way that OCTO has attempted to do this is to create events like this one today which brings communities together to discuss ways to remove technology barriers for anyone who might be unable to benefit from it today."
In addition to remarks by Mayor Gray, CTO Mancini and National Telecommunications and Information Administration (NTIA) Chief of Staff Angela Simpson—as well as expert Q&A discussion panels—the Summit offered a full schedule of activities:
Breakout sessions on how community anchors and others can connect to the DC Community Access Network (DC-CAN);
Technology exhibits by nearly 30 government agencies, local businesses and community partners showcasing online content and demonstrating Internet applications;
Demonstrations of the newly created Broadband Speed Test and Broadband Use Survey by OCTO's Geographic Information System (GIS) team;
Meeting of the Connect.DC Community Advisory Board;
Grant workshop, held to introduce the SBI Subgrant Program, which will provide microgrants to small businesses, multimedia entities and community groups;
Online financial literacy tutorials provided courtesy of Bank on DC; and
Hands-on technology coaching provided by Bread for the City.
Gerard Cooper and the IT Computer Wiz Kids received the Digital Inclusion Achievement Award and nine participants won a laptop or iPad through the Connect.DC Raffle.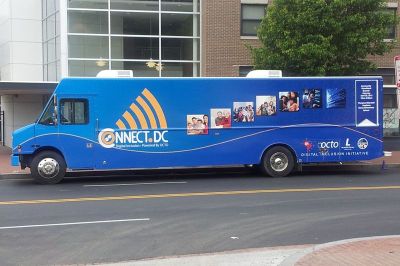 A newly refurbished Mobile Technology Lab (MTL) was open for viewing throughout the day. The 40-foot MTL—equipped with laptops and a projector—is now deployed in District neighborhoods to spread the digital inclusion message and promote technology-related programs and tools. The MTL will provide Internet access to the general public, offer "train the trainer" digital literacy programs and collaborate with program partners to showcase online programming and applications.
"This event was a true testament to the depth of citywide engagement in digital inclusion efforts, from the interest of volunteer groups to the many government agencies represented here today," said Alex Chi, Director, DII. "We are partnering with government and nongovernmental organizations to establish the foundation needed to tap into the expanding digital economy—and ultimately to help drive business development and job opportunity in the District."
The Summit was not meant to be a single event, but
part of the Digital Inclusion Initiative's larger outreach and educational effort. Other programs include the rollout of Digital Inclusion Centers, enhanced community engagement efforts through the MTL and Microgrants as well as the development of a web and social media presence.
Additional pictures and video from the Spring Community Broadband Summit can be found on the Connect.DC Facebook page.
Media Contact:
Jill Melnicki (202) 442-3201